VOLLEYBALL CAMPS & LESSONS

BIRTHDAY PARTIES & EVENTS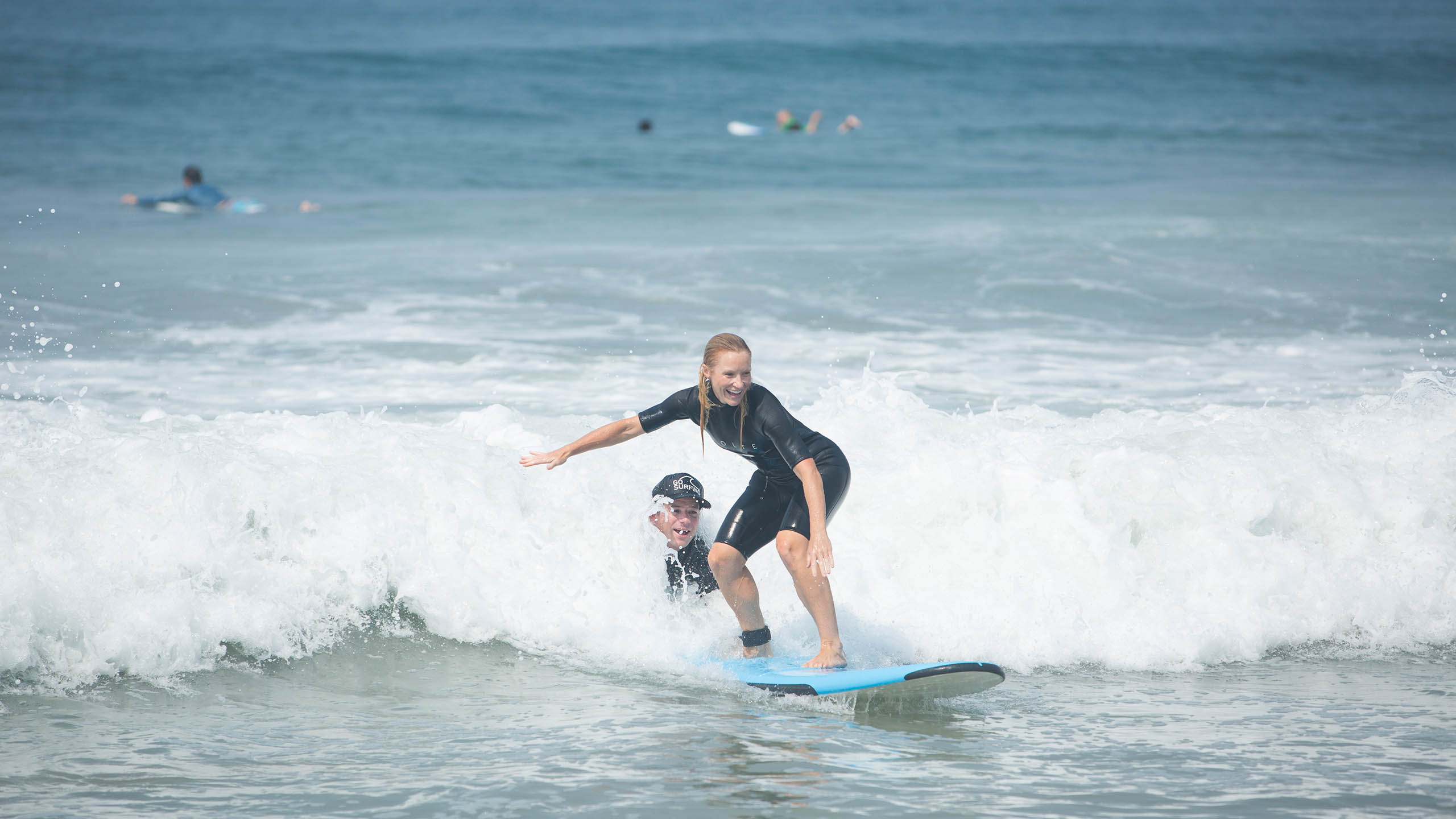 PRIVATE SURF LESSONS | ALL AGES

SCHOOL HOLIDAY BEACH CAMPS
Starting at Age 4, our Beach Camp is designed to be the perfect introduction to the beach for our younger campers. Our curriculum and activities were designed by local elementary school teachers to be inclusive, educational, safe and FUN! Campers will enjoy a variety of beach games and shallow water actvities including body surfing and boogie boarding.
When is it?
2023 Dates:
Spring Break | April 3-7
Spring Break | April 10-14

Schedule:
9AM-2PM
Who Can Join?
Minnows | Ages 4 to 6
Dolphins | Ages 7 to 10
Campers are split into groups based on age to ensure camp activities are safe, fun and developmentally appropriate for each of our campers.
No swimming or ocean experience required
BEACH VOLLEYBALL CAMPS & LESSONS
Learn and practice the fundamentals of Beach Volleyball with experienced local coaches. Starting at Age 7, our Volleyball Camp provides beginner training in passing, hitting, serving, rotation and rules of the game. Our small camp size and low coach to camper ratio ensure quality instruction and focus on each participant.
The Camp runs from 9AM-2PM with volleyball instruction from 9AM-12PM and ocean activities, such as body surfing and boogie boarding, from 12PM-2PM.
When is it?
2023 Dates:
Spring Break | April 3-7
Spring Break | April 10-14
Schedule:
9AM-2PM
Who Can Join?
Ages 7 to 14
No prior experience required

PRIVATE VOLLEYBALL LESSONS
Looking for instruction around your schedule? Book a private lesson with one of our experienced Volleyball Coaches.
WEEKEND & SCHOOL HOLIDAY SKATE CAMPS
Learn to skateboard or take your skating to the next level at our Skate Camp at the Hermosa Beach Skatepark! Our Summer Camp is open to boys and girls, with or without skating experience, from age 5 to 12. Campers will have exclusive use of the Skate Park to learn and practice their skills! Our coaches will provide beginner to advanced level instruction starting from the very basic, getting from A to B, to intermediate and advanced tricks including ollies, flip tricks, grinds, ramp skating and much more!
Safety is our number one priority. All campers are required to wear a helmet, elbow pads, knee pads and closed toe shoes. Our coaches are First-Aid & CPR Certified and enforce strict safety rules. They are also very talented skateboarders with a lot of knowledge to share with their campers! Don't have pads or a skateboard? No worries! We have some you can use.
When is it?
2023 Dates:
Every Saturday starting Jan 1.
Plus the following school holidays:
Spring Break | April 3-7
Spring Break | April 10-14
Schedule:
9AM-12PM
*Attend individual days or the full week
Who Can Join?
Ages 5 to 12
No prior experience required

Holiday Camps

$360/week or $75/day
Spring Break Camp
Week 1 | April 3-7
Spring Break Camp
Week 2 | April 10-14
Offered every Saturday at the Hermosa Skatepark.  Advanced registration required using the button below. Minimum 4 participants required for the class to run.
Please let us know if you have additional questions!
Private lessons offer individualized instruction for first-time to advanced skateboarders. Lessons can be 1-on-1 or exclusive to your group of any size. Available at skatepark locations throughout the South Bay or we can come to you. Lessons are offered daily and can be scheduled thoughout the day.